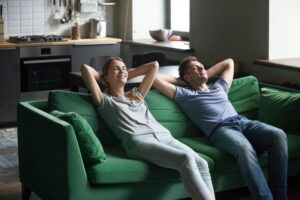 There is a reason why there are positive connotations to the phrase "a breath of fresh air." Clean, clear air is better for our overall health. What you may not know is that it is also better for your indoor comfort too. That is why your indoor air quality plays a big role in your ability to stay comfortable.
Whether you have started to consider how you might want to improve your indoor air or you are only just discovering that you need to think about the air quality in your home, we've got one system that you'll want to consider using: an air purifier.
Believe it or not, a good indoor air quality system or service can help to optimize your home comfort. Read on to learn how the addition of an air air purifier in Kelowna, BC can make your home truly comfortable this season and beyond.
3 Benefits That A Whole-House Air Purifier Can Offer
Have you heard of an air purifier before? There's a chance you may be thinking of a portable system that can plug into the room of your choice. We want to focus on alerting you to the benefits that can come with the installation of a whole-house air purification system instead.
1. Whole-House Air Purifiers Clean All of the Air Passing Through Your Ductwork
It's in the name! These types of purifiers are installed within your ductwork where they clean all of the air that is transported through your ducts and into your home. This is worlds more effective for cleaning the air throughout your home rather than only cleaning one area at a time.
2. Air Purifiers Can Help Prevent Allergies and Asthma Flare-Ups
There are a variety of airborne contaminants and pollutants that may end up in your home and can trigger allergies or even asthma. For anyone with these types of respiratory issues, an air purifier can make a big difference. These systems can help to reduce or even do away with allergy and asthma issues indoors.
3. Fewer Viruses and Bacteria Mean Fewer Sick Days
Now more than ever it is apparent that our indoor air quality can have a huge impact on our health. This is one of the reasons why an air purifier can be a great investment. Depending on the type of purifier that you install, your system will do more than just tackle dust and pollen, it will also break down or nullify viruses and bacteria. This means fewer risks of illness in the long run.
Better Air Quality Means Better Comfort
Investing in an air purifier, especially a whole-house system, can make a big difference for your home comfort. Aside from the fact that it will improve your respiratory health and prevent illness, the system will fight against contaminants that could compromise your temperature control otherwise and increase the work your HVAC system has to do.
Are you comfortable? Contact Comfort Tech Heating & Cooling to get the systems in place that will optimize your comfort level.