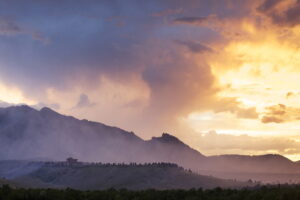 The season when we see a good deal of wildfires throughout our region is here. This isn't a time of year to take things lightly. Your safety and well-being during this season are a high priority.
Along with measures taken to protect your home and your family, you'll want to make sure that you have systems in place to keep the air in your home clean. This can be tough when wildfires rage and fill the air entering your home with soot and smoke, though.
Our team understands that it can be tough during this season to keep your indoor environment clean and healthy. That is why we want to provide some tips to help you keep up healthy indoor air quality in Kelowna and ensure that you stay safe this season.
Please remember these tips to keep your home's air quality in better condition and to keep yourself and your loved ones as safe as possible.
Keep windows and doors closed as much as you can
If you can see ash and/or smoke in the air nearby, you'll want to make sure that you keep your doors and windows shut tight. This is meant to keep these airborne contaminants out of your home. Less smoke, soot, and ash in your home will leave you with healthier indoor air and a cleaner space as well.
Consider installing an air purifier to combat smoke
One of the most effective ways to keep the air in your home cleaner, even during wildfire season, is to use an air purifier. An air purification system is will keep airborne contaminants such as ash and soot to a minimum. Air purifiers can prove effective against a much wider range of particulates, including these byproducts of wildfires. They can even help to keep that sooty smell out of the house.
Keep tabs on developments of fire spread
Keeping your home cleaner during wildfire season is important, but your well-being is even more important. Keeping tabs on wildfire spread and evacuation orders is vital to keeping yourself safe. If there is an evacuation of your area, please make sure to follow directions and keep yourself safe.
Have go-bags packed in case of evacuation
During wildfire season, evacuations can happen suddenly and require you to leave your home swiftly. To stay safe, it is advisable that you have emergency "go bags" packed with the essentials that you can grab and then leave with. Having a bag packed with vitals such as basic changes of clothes, first aid kits, and even some food can help keep you safe.
Stay AWAY from areas that are burning
It can sometimes be tempting to try to see what a wildfire looks like yourself. However, we want to remind everyone that it is extremely important to stay far away from areas that are burning. Getting close to a wildfire can put you are risk of being harmed more quickly than you might think, especially if winds change and send the fire in your direction. Leave battling wildfires to the experts and keep yourself and your loved ones safe indoors or evacuated to safety zones.
Make sure to come to Comfort Tech Heating & Cooling for help with keeping your home's indoor air quality healthy and safe throughout wildfire season and beyond.