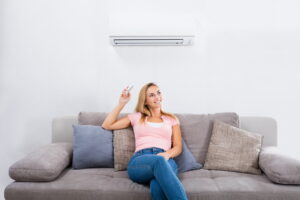 Your ductless heating system is working hard right now. It has a big task to take care of having to keep your home warm, especially with how cold it has been. With all of the heavy, consistent use, your heating system may start to hit some bumps in the road.
Wear and tear take their toll so it helps to be able to recognize if and when you need a ductless heating repair in Kelowna, BC. You can read on to learn about the warning signs to watch for and then schedule your ductless heating system repairs with our team.
4 Signs Something Is Wrong With Your Ductless Heating System
If your ductless system runs into trouble then the sooner you get professional assistance to address the issue, the better off you'll be. To help, we've provided some indicators that you can check for that will let you know you need a pro.
Weakened or stopped airflow: Each air handler that you have in your house should provide strong, steady airflow into the parts of the house they are in. So when airflow falters, it is usually pretty clear something is wrong. First things first, you'll want to double-check your air filters. The filters in the air handlers may be too dirty to pull in or push out any air. If a filter change isn't the solution, poor airflow in one or more parts of the house can indicate issues like thermostat problems, broken fans, and more.
Short cycling: This term refers to when your comfort system encounters shortened or interrupted cycles. This may look like your ductless system turning on and only running for one or two minutes before it shuts itself down and repeats the process. Short cycling is a problem that you'll want to have checked out quickly since it causes extreme strain on the system and negatively impacts your comfort.
A lack of heat: When your ductless heating system can't produce heat, then it is a pretty clear indicator that it needs repairs. There is a chance that your system's reversing valve became stuck when you tried to switch it to heating mode. Other causes can include problems with the thermostat or even a refrigerant leak. There is a chance that a temporary loss of heat may be caused by a defrosting cycle but this should only last a short time.
Overly noisy operation: Have you noticed that using your ductless heating system creates a concerning noise or more than one noise? This is not something to ignore. New and concerning noises coming from your heating system can be indicators that there is a problem in the system. For example, rattling may indicate a loose part or screeching may be a sign of a dry blower motor belt.
Whatever is going wrong with your ductless heating system, our team can help. We understand these systems and can properly diagnose and resolve any problems they encounter.
Contact Comfort Tech Heating & Cooling to get your ductless heating system back in working order again. We guarantee your comfort with every job we do.