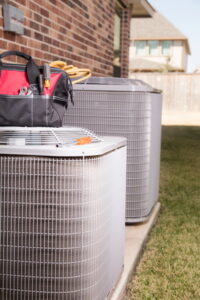 Your air conditioning system isn't working as well as you want it to. It's sending out cool air, but something isn't right. It could be…
Shutting off too early and leaving parts of the house too warm
Making a strange sound you know it shouldn't be making
Blowing air from the vents weaker than expected
Never getting the house as cool as you need it
Requiring a lot of fiddling with the thermostat to find the right temperature
What do you need to get this problem corrected? Should you call for repairs? Or maybe the AC just needs maintenance? Let's look into it…
If your air conditioner isn't working right, it needs to be repaired
Okay, we didn't need to look far, because in the situation we just described, what you need is clear: repairs. A maintenance tune-up is something you do to prevent repairs. It's a proactive move, the same way you routinely take your car into the shop for maintenance tune-up.
A repair is a reactive move: something isn't working and it needs to be addressed. Maintenance is designed for the whole air conditioning system, not targeting a specific problem. With repairs, a technician will examine the AC unit to diagnose the trouble. Once the technician has figured out what's wrong, they can fix it with the appropriate tools and methods.
However, your AC DOES need maintenance!
The question in the title is a bit of a trick. Your AC may very well need to have repairs if something is wrong with it. But an AC always needs maintenance—it just needs it on an annual basis to help it run better. Scheduling a professional maintenance tune-up and inspection each year is one of the best ways to keep from running into repair needs in the future. Maintenance eliminates more than 50% of repairs that an air conditioner may require during its service life.
Maintenance does much more than slow down repairs. It also…
Extends the equipment life of the air conditioner, helping it to last for around 15 years
Lowers strain on the system, which improves energy efficiency and helps save money on cooling costs
Reduces the chance that the AC will abruptly fail during the summer
Keeps the equipment warranty valid
There are no downsides to maintenance. So yes, your AC does need maintenance even if it doesn't need repairs at the moment.
When should you have maintenance?
Right now! Spring is the best time to have this job scheduled. It gets the AC ready in time for the summer weather, and it's always best to maintain a device close to when you'll need it the most. In general, have maintenance done once a year. Even if you don't get to it in spring, it's better to have it done late than not at all.
Whether you want to schedule maintenance or you need AC repair in Peachland, BC, we're here to help.
Contact Comfort Tech Heating & Cooling for your AC services. We guarantee your comfort with every job we do.